OUR STAFF
Erin Insinga – Shelter Director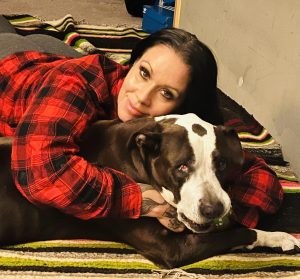 I think that it's fair to say that children learn what they live. Growing up, my mom was a cruelty investigator and avid supporter of humane education within our community. She taught me very young that animals rely on us; doing nothing was never an option when it came to helping those animals in need whether it be dropping off food, assisting with spaying and neutering or providing proper housing for animals left in the elements, my mom always taught me to be their voice when no one else would. I started managing here at Delaware Valley Humane Society in December 2015 and I cannot express enough how incredibly proud I am of where we are today and more importantly, I am ecstatic over where we are headed. To be part of the no-kill movement where each and every animal that is in our care will receive the attention and care required to ensure the greatest opportunity to find a home has got to be one of the most gratifying jobs a person could ask for. But that is not to say it's easy. There are days that make me cry and days that I go to bed very angry, but these are the moments where I find strength in what we CAN do. We can help people and animals in need. We can deliver food, we can help heal by introducing a new family member (a 4-legged one of course!), we can open a kennel or a cage when space allows, and we can listen and not judge, because after all, to be human is to be humane. My husband and I own two pitbulls, Rosebud and Gooch and we have three children.
Kara Schaeffer – Behaviorist & Trainer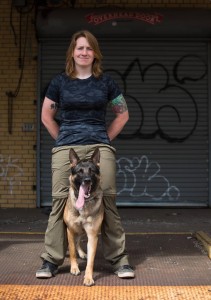 I have been a dog lover since a child.  I became interested in training dogs when I got a puppy that behaved terribly.  In an attempt to help my puppy, I immersed myself in dog training books.  I was in absolute awe when I realized what could be accomplished in such a short period when you communicate correctly with your dog.  I then reached out to local trainers to learn more.  In 2009 I decided to go to school for dog training.  I attended Anthony Jerone's School of Dog Training and Career INC in Queens NY.  Since graduation I have spent most of my time volunteering with Amigo Search and Rescue Dogs, a non-profit K9 Search and Rescue Team.  I now have 2 operational K9s as well as another in training.  I have spent countless hours helping others train their SAR dogs as well.  I am a certified K9 Search and Rescue Handler and AKC Canine Good Citizen Evaluator.
Diana Coy – Kennel Attendant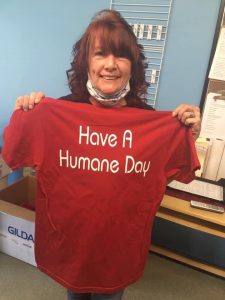 My name is Diana Coy. My whole life I have had a special place in my heart for all animals. I suppose that's what drew my attention to the Delaware Valley Humane Society over two years ago. These animals have shown and given me more love than I ever thought possible and that's why I always say, "it's not just what you can do for these animals, but what they can also do for you."
Megan VanValkenburg – Kennel Attendant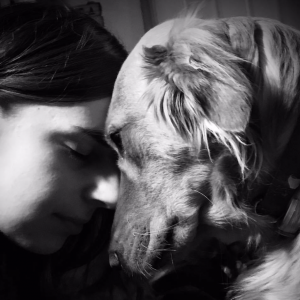 I have had a passion for animals since early childhood. I originally went to college to become a veterinary technician, but realized that my passion really was for animal rescue rather than for medicine. I work at the shelter because I want to be an active part of the solution to helping show animals, who are coming from a variety of different situations and sometimes unknown backgrounds, the love and care that they deserve as well as help them find forever homes. My future dream is to have my own animal rescue. I currently own two very spoiled dogs and I couldn't imagine not having them by my side. If I had the space and finances available, I would certainly be adopting more!
Erik Warren – Kennel Attendant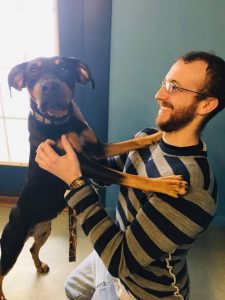 My name is Erik Warren. I enjoy being outdoors and active. I also enjoy working with animals. I have a 3 year old german shepard named Artemis who I am training for search and rescue. Working here has provided me with a chance to help the community and little innocent creatures as well.
Jessica Spinu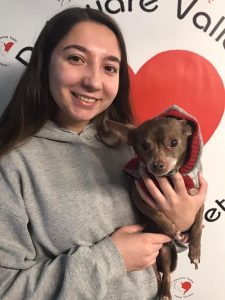 Caden Clow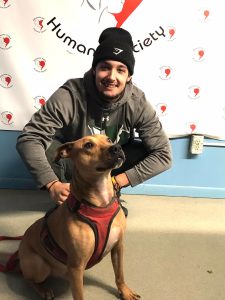 Mikey