OUR STAFF
Erin Johnson – Shelter Manager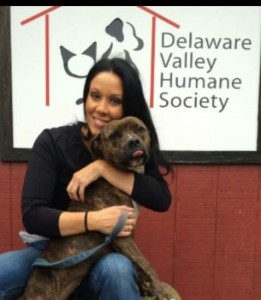 There is a quote by Anatole France that reads, "Until one has loved an animal, part of one's soul remains unawakened."  I often think back to this and find myself incredibly thankful that I am doing exactly what I was born to do.  I am overjoyed to tell you that my soul is wide awake because of these animals that we take care of here at DVHS.  I have been working in animal rescue for almost 10 years. Although my background was primarily in adoptions and community outreach programs for spay and neuter programs, shelter management has been a wonderful new challenge that has made me incredibly proud of the team that we have here and of our amazing facility.  My fiancé and I share three childen and two pitbulls.
Kara Schaeffer – Behaviorist & Trainer
I have been a dog lover since a child. I became interested in training
dogs when I got a puppy that behaved terribly. In an attempt to help my
puppy I immersed myself in dog training books. I was in absolute awe when
I realized what could be accomplished in such a short period when you
communicate correctly with your dog. I then reached out to local trainers to
learn more. In 2009 I decided to go to school for dog training. I attended
Anthony Jerone's School of Dog Training and Career INC in Queens NY. Since graduation I have spent most of my time volunteering with Amigo Search and Rescue Dogs a non-profit K9 Search and Rescue Team. I now have 2 operational K9s as well as another in training. I have spent countless hours helping others train their SAR dogs as well.
Graduated from Anthony Jerone's School of Dog Training and Career, Inc. in 2009.
Director of Amigo Search and Rescue Dogs INC Non-Profit K9 Search and Rescue team
Certified K9 Search and Rescue Handler through the New York State Federation of Search and Rescue
AKC Canine Good Citizen Evaluator